QUALITY OVER QUANTITY, THAT'S OUR PHILOSOPHY
A PLUS Construction, LLC was established in March 2006 by owner, Aaron J. Tregre, a lifelong resident of St. John the Baptist Parish. Born the son of an electrician and HVAC contractor and the grandson of an Intertherm air conditioning distributor and owner of a wholesale lumber yard, Aaron was introduced to the construction industry at a very early age and had no choice but to learn and love the construction industry.  When other toddlers were playing with building blocks, he was on job sites, in the lumber yard,  and traveling the country with his dad, uncle, and grandfather delivering lumber and air conditioning systems.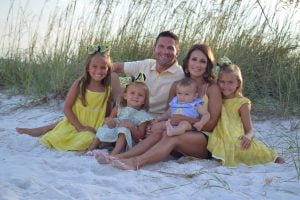 Aaron's early introduction to this line of work and his experiences working in the field on jobs and in the lumber yard shaped his future.  Upon graduation from high school, he began working for a local contractor while working towards a Bachelor's Degree in Business Management. After earning his degree from Southeastern Louisiana University and continuing to work for the same contractor for a few more years, Aaron decided to move forward and focus all of his knowledge and experience into his own company, A PLUS Construction, LLC.
Now, with over seventeen years of experience as a contractor building residential homes and commercial properties throughout southeast Louisiana, Aaron has developed a unique but efficient process to lead his clients to a manageable and effortless home building experience. A PLUS Construction is able to provide you, the homeowner, a wide variety of ideas, options, budget solutions and design features from start to finish each step of the way.  A PLUS Construction also has a rarely found business philosophy of "quality over quantity."  Our Five Project Rule is something we implemented from the beginning of our business and still have in place today.
At A PLUS Construction, we believe building a home is not about rushing through the process but focusing on each step to approach a timely completion.  Contact us today to start your home building experience. Remember, we are here to build your dream to become home.